Process
Pinstripes are applied to the profile edges with a striping gun to create a relatively clean line of glaze where it would normally hang up in the profile.
Appearance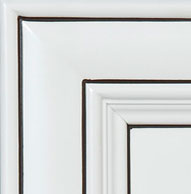 Sea Salt WBF w/ Umber
This glaze process shows the true color of the stain or paint and has clean lines in the negative spaces on the profiles. Choose this process if the customer likes the stain or paint color on their chosen species, but they want a clean glazed look. The color of the paint is not changed and the look is a bit more stark or cool.
Notes
This glaze process is only available to be applied to the face of your doors and drawer fronts. This glaze process cannot be applied to the back of your doors.
How to order
When selecting the glaze process, click "Glaze Pinstriped Face Only".