Your company logo can be Laser Engraved onto the inside of a drawer box.
For the best results we ask that you carefully read through the logo specifications BEFORE sending your logo. This will help to ensure that your drawer boxes are not held in production due to a logo not meeting the minimal requirements.
Logo Specifications:
Logo is on the inside left
Located 2" from the front & 1/2" from the top (see illustration)
Minimal Size Inches: 3.5" x 2" / Pixels: 1,050 x 600
Image Resolution: minimum 150 dpi, for best results 300 dpi
Available on Dovetail and Doweled Drawer Boxes
No additional lead time required
Submitting Files:
E-mail: logo@decore.com
Please include customer code when emailing files
Acceptable (Flat Image) Digital File Formats:
JPG or TIF
EPS or AI (artwork must be outlined)
PDF (must be high quality)
NOT Acceptable Digital File Formats:
Any Text File
Word, PowerPoint, Excel
Notepad, WordPad, TextEdit (Mac)
Any Non-Digital Media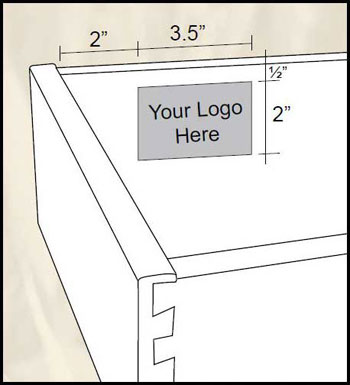 Logo Examples
Logo Example 1: Logo is too small and the resolution is too low.

Logo Example 2: Logo is the recommended size (3-1/2" x 2") and has a high resolution (300 dpi).