Process
Glaze is wiped on to both the face and back of the product.
The color of the paint or stain changes.
Glaze is wiped off to a clean appearance.
Pinstripes are applied to the profile edges with a striping gun to create a relatively clean line of glaze where it would normally hang up in the profile.
Appearance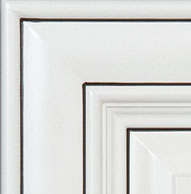 Sea Salt WBF w/ Umber
This glaze process is a very classy look. It is appropriate for a variety of old-world styles on a stained door, and on a paint door it provides a clean and elegant look. Our stains and semi-transparent finishes are glazed with a more rugged style of line that looks a bit more weathered. The color of the paint or stain is changed from the original color and appears a bit more dark and warm.
Notes
This glaze process is also able to be applied to only the face of your doors and drawer fronts.
How to order
When selecting the glaze process, click "Glaze Standard Both Sides" or "Glaze Standard Face Only".