Process
Glaze is applied by flicking a brush lightly dipped in glaze quickly across the entire surface of the door.
Appearance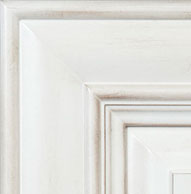 Sea Salt WBF w/ Umber
This glaze process has a lightly weathered and worn appearance. Some might call this Antiqued, French Country or Cottage style. Most of the glaze is applied on the peaks of the profiles. Some brush strokes are visible on the flat surfaces of the door. Some glaze is visible on the panel. A minimal amount of glaze hangs up in the negative spaces in the profiles. The color varies across the surface of the door, and it looks like the door has seen a lot of loving use.
Notes
This glaze process is also able to be applied to only the face of your doors and drawer fronts.
How to order
When selecting the glaze process, click "Glaze Brushed Both Sides" or "Glaze Brushed Face Only".