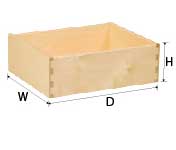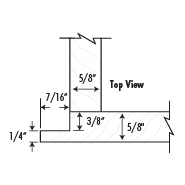 Also Available
Lipped Dovetail 5/8" Sides 3/8" Bottom (968)
Dovetail drawer boxes offer the strongest box construction available while offering the beauty of interlocking joints. The 3/8" bottom provides extra support for drawers bearing the weight of heavy contents. The lipped front helps conceal side mount drawer glides used on pull out drawers.
Name: Lipped Dovetail 5/8" Sides 3/8" Bottom
Style Code: 968
Minimum Size: 4" x 2-1/2" x 10" (Width x Height x Depth)
Maximum Size: 30" x 15" x 36" (Width x Height x Depth)

Dovetail Drawer Boxes are pre-assembled.
Bottoms are pinned and glued.
Maximum width can be exceeded with no guarantee and possible option charge.
Maximum height and depth cannot be exceeded.
D20: Bottoms are placed 1/2" up from bottom of sides to allow for tandem undermount glides.
D21: Measurements reflect dimensions on the outside of the box.
D24: Dovetail Box Sides are 2mm shorter than front and back.
D25: Dovetail Box solid materials may show natural streaking, mineral, sapwood, pitch, and color variation.
D26: Dovetail Boxes come assembled and ready to finish.
D27: Solid material dovetail top edges are eased on 1/2" and 5/8" materials
Additional materials available.