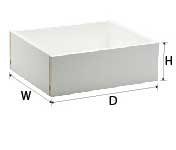 Also Available
Doweled Assembled 1/2" Sides 1/4" Bottom (649)
Pre-assembled doweled drawer boxes with 1/2" sides and 1/4" bottoms are an excellent choice when economy is of the essence but quality and durability are key. Assembled construction means boxes are ready to be installed upon arrival.
Name: Doweled Assembled 1/2" Sides 1/4" Bottom
Style Code: 649
Minimum Size: 4 " x 2-1/2" x 2-1/2" (Width x Height x Depth)
Maximum Size: 44" x 16" x 24" (Width x Height x Depth)

Bottoms are pinned and glued.
D20: Bottoms are placed 1/2" up from bottom of sides to allow for tandem undermount glides.
D21: Measurements reflect dimensions on the outside of the box.
D22: Doweles are 32mm center to center.
D23: 9-Ply top edges are bullnosed when clear transfer foil is used.
Options