California Glass Program
Our special California Tempered Glass program is exclusively offered to Southern California customers within Decore-ative Specialties Truck delivery areas, allowing for quick, safe delivery of your glass orders. Upgrade to the safety and durability of tempered glass, which in the event it is broken will crumble into small fragments instead of large hazardous pieces.

Tempered glass is normal glass that has been through a process of extreme heat and rapid cooling which changes the break pattern, making it stronger than normal glass. This property can reduce the risk of injury and damage if the glass happens to break during or after installation and is why tempered glass is often called safety glass.


Shown: 3/16" Bamboo (3633) shown in Glass Style (950)
Glass Styles (950)
| | | |
| --- | --- | --- |
| 1/8" Clear (3622) | 1/8" Grey Tint (3623) | 1/8" Tan Tint (3624) |
| | | |
| --- | --- | --- |
| 1/8" Dark Tint (3625) | 1/8" Fern (3626) | 1/8" Frost (3627) |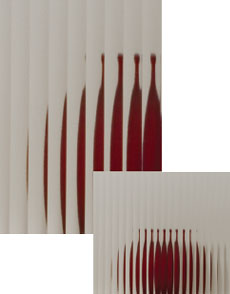 5/32" Scallop (3628)