Homeowners Choose to Remodel Instead of Relocate
Similar to many of us with growing families, the owners of this beautiful home were confronted with the common question; "Should we remodel or relocate?" Even with an improving economy, answering this question can have lasting consequences. Therefore, these home owners decided to utilize the experience of both a kitchen and bath designer and a custom cabinetmaker to help solve their kitchen challenges. The results are impressive!
Experienced Professionals Create Unique Spaces
By combing the efforts on an interior designer with a custom cabinetmaker, they discovered their kitchen could be redesigned to maximize the original footprint. By utilizing unused space underneath a stairway, an adjoining room helped to increase the overall kitchen area.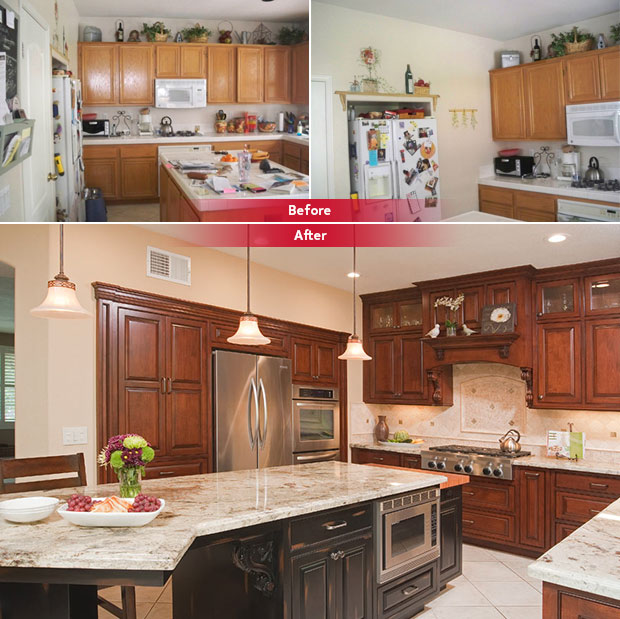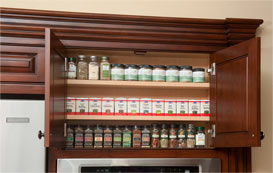 Above the inset refrigerator they added a short, deeper cabinet perfect for storing large platters and oversized serving trays. A shallow cupboard with shelving provides an organized and easily accessible space for their spices. By adding this new cabinetry around the inset fridge, they freed up space in the wall and island cabinets for more commonly used items. The pantry pull-out drawer boxes in their built-in might be one of the most beneficial additions, allowing easy access to cooking necessities, replacing the previous shallow pantry area that lacked usability.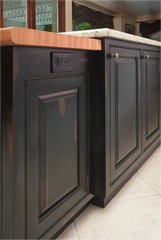 The expanded size and unique angles of the island allow ample space for the family's children to gather for snacks or to complete their homework. The opposite end of the island features a stepped down, butcher block, that's perfect height for mom tackling any cooking request. They also added a convenient space in the island for storing their favorite beverage collections, accomplished by adding a special insert to a glass door frame.
Another key design decision was extending the wall cabinetry to the ceiling, allowing "out of the way" storage for items not commonly used. In contrast, they added a creative nook space to the wall cabinets which provides a designated, organized space for everyday items like phones, tablets, keys, and other necessities that often clutter the countertop. Ultimately, choosing an interior designer and a custom cabinetmaker provided these homeowners with experience and creative alternatives for remodeling their kitchen in the home they love.
Referrals
Dave Prochnow, custom cabinetmaker with SCV Molding & Design Center and Prochnow Woodworks and Pam Di Valerio, kitchen and bath designer with Di Valerio Kitchen and Bath Design, transformed this kitchen space with the help of custom cabinet components from Decore-ative Specialties.
Cabinet Door Specifications
Square Raised Panel (151) doors and drawer fronts with P087, IE015, and OE1 profile details in Alder Select were used. Visit the gallery for more product details to achieve a similar look.