By Karen M. Koenig, Woodworking Network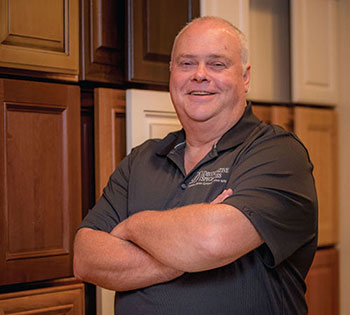 A key figure in the success of Decore-ative Specialties has been the leadership of Jack Lansford, Jr. in the expansion of its products and capabilities, which in turn has influenced the custom cabinet market.
For example, the components maker was one of the first to produce raised panel doors in a one-week lead time. "To our knowledge, we were also the first custom maker of rigid thermo foil (RTF) doors in the U.S. that we know of," Lansford Jr. said. Trademarked as Deco-Form®, it continues to be highly popular.
Much of Decore's product and capability innovations stem from Lansford Jr.'s longtime knowledge of the industry and its needs. His father, Jack Lansford Sr., founded the firm in 1965 and the younger Lansford and his brother Eric in essence, "grew up in a cabinet shop."
"Over the years, I have done almost all of the jobs that we have and operated almost all of the machines. I always knew that I wanted to be involved in the family business, but I also saw that the second generation often did not do a good job of continuing the founder's legacy and I didn't want that. So I tried to learn and observe as much as I could about operating a business and what makes success happen," Lansford Jr. said. "My brother Eric (senior vice president) and I still have that same learning attitude."
That attitude has also helped drive Decore's Lean efforts, ongoing since 2007. "I'm probably proudest of the way our people have implemented Lean in our organization. It's a lot of hard work, but our teams have responded well and we have made Lean part of us. For Decoreative Specialties, it has been the best way to unleash human potential."
It was the need to find a faster and more efficient "Lean" method for shaping, squaring and sanding cabinet doors to tight tolerances that led to Decore winning the 2016 Wooden Globe Award for Innovator of the Year. Lansford Jr. credited Todd Shapiro, vice president, for driving the innovation along with his work with Bacci to develop the IWF Challengers Award-winning CNC machine.
Efforts such as these are a testament to Decore's goals: "to have world-class manufacturing, products and services, be an employer of choice, and continually develop servant leaders."
Away from work, Lansford Jr. enjoys spending time with family, especially his six grandchildren. Along with volunteering at his church, he enjoys woodworking, playing the bass and singing. He also enjoys showing off his 1914 Model T Ford "that has never been restored and runs like a champ!"