The multi-unit housing development puts a roof over the heads of some of the nation's most talented professors and teaching staff while on assignments at prestigious Stanford University. Our client is in the process of remodeling units in their large development to deliver contemporary, high-end housing with high-quality products that will last. Nestled in the pricey real estate market of Palo Alto, wisely using space, providing helpful solutions for tenants, and using a welcoming color palette makes these condos a perfect place for visiting professors to call home.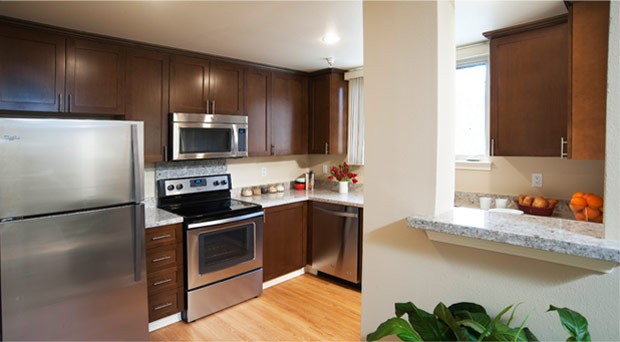 Time is Everything
Timing is of the utmost importance for our customer as they typically remodel 10 units per month. With approximately 14 different unit configurations, orders consist of a large volume of custom sizes. They get everything they need for installing new kitchen cabinets that are both high quality and high quantities. Our customer values working with one vendor for all their cabinet components because they have one invoicing company. This eases job cost tracking and the consistent pricing from one supplier creates fairly fixed and dependable unit remodel costs. The reliable, quick lead time of 2-1/2 to 3 weeks delivered includes integrated finished ends on their cabinet boxes. Keeping a tight timeline and relying on dependable delivery of large volume orders in custom sizes has been imperative.
Intelligent Upgrades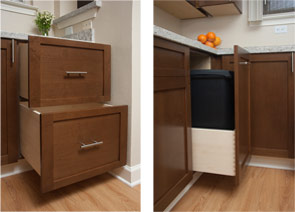 Decore-ative Specialties' comprehensive offering is a perfect fit for this client who orders everything for a condo remodel. Orders include:
Streamline RTA cabinet boxes,
Doors and drawer fronts with finishing,
Drawer boxes,
Door and drawer hardware,
Decorative pulls,
Molding and accessories.
They completely gut older units, reconfigure the space, and install new Streamline cabinets. Adding large pull-out drawers provides a special upgrade not commonly offered in multi-family housing units. Large pull-out drawers are extremely helpful for maximizing space and increasing lower cabinet usability. Tall pull-outs designed for storing a trash can are also added next to the sink base, solving an inevitable space issue for their tenants. All items for each unit ship together from Decore-ative Specialties, improving job scheduling, enabling quick installation, and minimizing vacancy time.
All the Right Products
Streamline RTA (ready-to-assemble) Cabinet Boxes
High-quality cabinet boxes manufactured to the customer's exact specifications and labeled for easy assembly allow for quick on-site assembly in the garage of the unit under renovation.

Doors and Drawer Fronts
Classic, clean lines make the Shaker style a perfect choice to appeal to a variety of tenants with its widespread popularity and timeless look.

Drawer Boxes
Durable dovetail drawer boxes are an excellent choice for multi-family housing that may see higher than average wear and usage.
Finishing
The customer selected Gingerbread Water-based Finishing with a warm medium brown hue that is universally appealing.
Glides and Hinges
High-quality Blum® hinges and glides assure that doors and drawers will repeated open and shut smoothly. The integrated soft-close mechanism results in less damage to the cabinet boxes, doors, and drawer fronts while reducing maintenance time for repair and replacement compared to lower quality hardware.
Hardware Pulls
The Contemporary Pull perfectly accents the clean lines of the Shaker style and also adds to the timeless feel of the room, keeping the cabinetry looking fresh and appealing.
Molding
The finishing details, including crown, base, and trim molding, complete the look and ordering them finished assures a matched color that is ready for installation.
Accessories
Save time for installers with everything for a cabinet project bundled together from one supplier, even the little items like shelf pins and clear bumper pads used for protecting cabinets.
Ultimately, using the comprehensive offering with all their cabinetry components delivered from Decore-ative Specialties helps this customer accomplish beautiful remodels while keeping them on schedule, providing fixed unit remodel costs, and reducing their overall vacancy time.