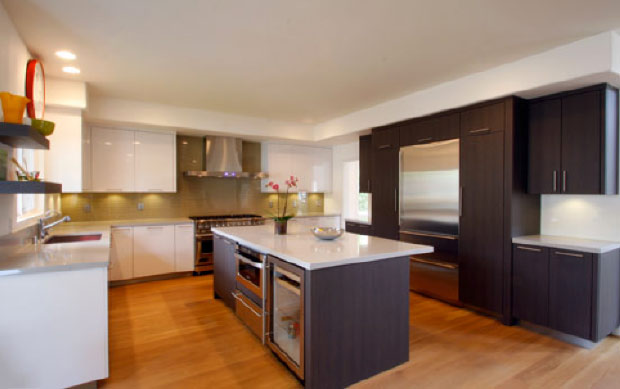 DBQ doors in High Gloss White and Grey Oak Melinga
A Talented Customer Finds Balance
When it comes to producing its strikingly attractive custom cabinetry, Funtime Cabinet Factory is deadly serious. The Canoga Park, CA-based custom cabinet business goes to great lengths to design, fabricate and install products that meet the approval of even its most discerning clients. That means not skimping on quality when choosing materials to render its high-end designs.
We are thankful Funtime regularly turns to Decore-ative Specialties® for cabinet doors, drawer fronts and other components as a trusted extension of its manufacturing operation. One of many shining examples is the Mariano contemporary kitchen designed and built by Funtime, which incorporates Decore-ative Specialties' Grey Oak Melinga and High Gloss White doors and drawer fronts.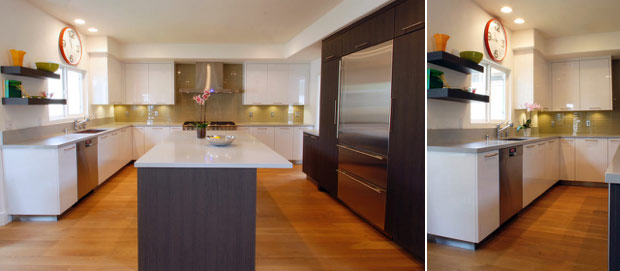 The Mariano kitchen splits different colors and textures into sections to bring contrast and balance into the design. So often this is accomplished by simply using a different material and color on the island to contrast with the wall cabinets. Funtime's talented design team went a step further by mixing and matching darks and whites. Instead of a room dominated by dark or bright colors, the end result is a stylish kitchen in harmony with both.
The shiny white high gloss and the textured matte finish of Grey Oak Melinga pair well without competing. The cabinetmakers also tied the two sides together by using the dark material on shelving and a high gloss white countertop throughout.
For more information about these doors or other cabinet components, please contact Customer Service
at 800-729-7277.
Display shown is DBQ (816) in High Gloss White and Grey Oak Melinga (special order material)