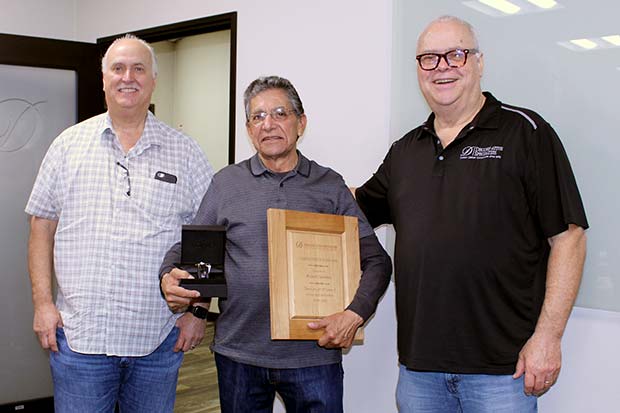 Ruben Sanchez (center) with Eric Lansford, President (left) and Jack Lansford, Jr., Chairman of the Board (right)
On Friday, March 3, 2023, Decore-ative Specialties celebrated the retirement of Ruben Sanchez. Ruben started working for Decore-ative Specialties in 1980 at our El Monte, CA facility and continued his tenure at our Irwindale, CA facility, working in the Plywood Department.
Ruben shared, "With over 40+ years of experience, I was still learning and growing. Although I was a Lead, I never considered myself one because there was always so much more to learn. I love sharing my knowledge with others. When new employees came in, I always did my best to show them everything I could."
Ruben's contributions at Decore-ative Specialties have been an important part of our success. Ruben looks forward to resting and traveling to Mexico in his retirement. Congratulations Ruben and thank you for being part of the Decore family.