Take Our Offering and Make It Your Own!
Customization is exactly what this customer did when smartly designing this beautiful kitchen. To bring this kitchen a look of its own they used a distinct material around the stove area, modified frame widths to tackle unique requirements, and incorporated beaded panels and French Lite doors.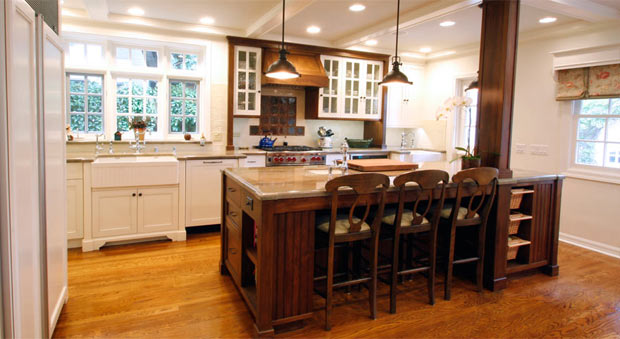 Incorporating Distinct Materials
Large amounts of a distinct material can sometimes be too much of a good thing. In this case, the cabinetmaker opted to add highlights of eye-catching Walnut wood amidst predominantly white cabinetry. Using Walnut throughout the entire kitchen would be too dark for this light, airy space but they were able to attain a pleasing balance using light and dark materials. The Cascade (858) door is used in Walnut Select with a clear finish and in MDF Panel / Paintable Hardwood Frame painted a crisp white. Outlining the cabinet box exteriors with Walnut and applying crown molding brought definition to the range work space. The distinct material breaks up the long stretch of white cabinets along the wall and ties the wall cabinets into the island.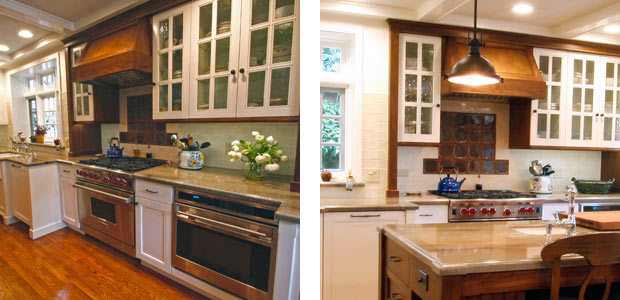 Adding Design Elements
One way to customize your design and add your own personal touch is to incorporate different design elements. In this home they chose to incorporate beaded paneling and lots of French Lite doors. Cascade doors in Walnut Select are used on the custom hood surround to create a built in look that would have been compromised by installing a standard stainless steel hood surround. We also love the Cascade French Lite doors used throughout, including some unconventional places like on a lower cabinet on the island. Beaded panels with Camden grooves on the island showcase the Walnut materials natural color and grain variation.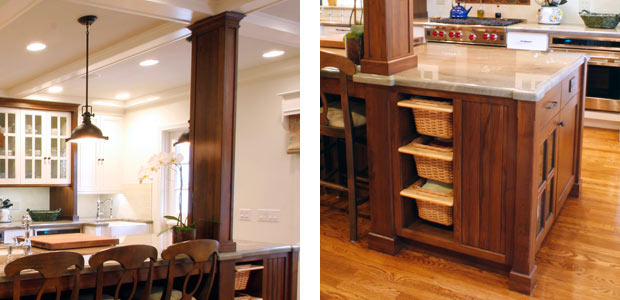 Customization is Key
Design requirements were tackled using Durango doors. This includes tall thin doors over 8' tall applied around the island column to incorporate the structural requirement into the overall look. Modifying the stile and rail widths of these custom pieces allowed the cabinetmaker to go directly to installation without having to adjust or build on additional material to the frame. They just applied crown and base trim to finish the look.
It is these unique applications and ideas that create a striking design and reinforce the benefit of using a skilled custom cabinetmaker.
View the full kitchen gallery:
http://www.decore.com/gallery/gallery-10245
Learn about the species Walnut:
http://www.decore.com/products/materials/wood-materials/walnut-family