Remodeling Brings Cohesion Throughout Home
When completely remodeling a large craftsman home, the homeowner smartly chose to use the same cabinetry throughout the home for a seamless transition from room to room. The clean lines and built-in cabinetry retain the Craftsman look with a modern, airy feeling.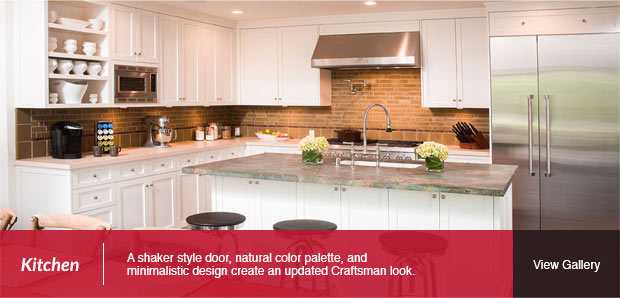 A Cohesive Collection
The Durango (834) door style with white paint was used throughout the home. The consistency of this modern craftsman look makes the house stand out as a whole. Different paints, textures, and styling allow each room to have its own unique feel.
▼ Click on any of the images to view their respective galleries ▼
Ultimately, creating a cohesive look with custom cabinets throughout a home can make a memorable statement whether you are remodeling or doing new construction.
Referrals
The remodel of the home was tackled by custom cabinetmaker Marc Charlton of Charlton Cabinets and the building professionals at Chelsea Construction Corp.