By Karen M. Koenig, Woodworking Network, Cover Story June 2015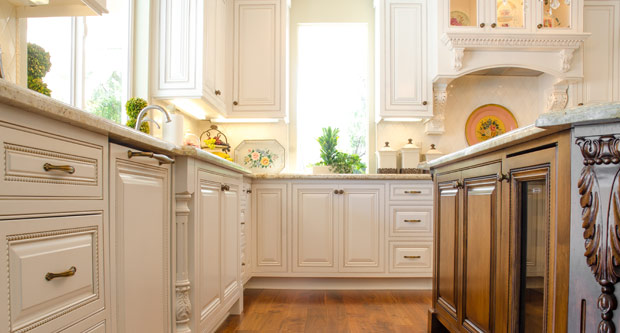 In 1965, standard-sized cabinets were all the rage, the average turnaround time on components was weeks — not days — and the tape-controlled routing and shaping machine was still a year away from making its mark in the woodworking industry. It was against this backdrop that Jack Lansford Sr. made the pivotal decision to start a custom wood door factory to service small cabinetmakers in Southern California.
The decision would prove to be a profitable one. In weathering the impact merger mania, the recession and regulations have had on the cabinet industry, Decore-ative Specialties has emerged a successful manufacturer of custom wood and laminate components. Headed by Jack Lansford Sr., CEO, and sons Jack Lansford Jr., president, and Eric Lansford, senior vice president, the company is celebrating 50 years in business, with a wide-ranging portfolio that includes door and drawer fronts, drawer boxes, RTA cabinet and refacing components, accessories and finishing, for the residential and commercial markets.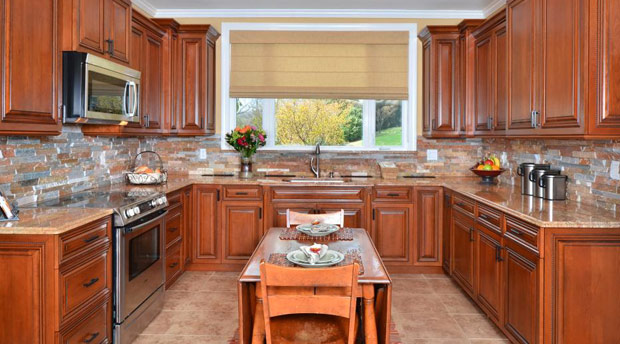 Streamlined Production
Headquartered in Monrovia, CA, Decore has four production facilities: two in Irwindale, California, another in Elk Grove, California and one in Monroe, North Carolina. Combined, the plants utilize almost 500,000 square feet of manufacturing space.
At 200,000 square feet, the Monroe plant is the largest of the company's production facilities. It is also its most high tech, with a full complement of CNC machinery, standard equipment, as well as pressing and finishing capabilities, for batch-one processing of the custom cabinet components. A high-production facility, the plant currently averages 6,000 cabinet doors and 500 drawer boxes per day, says Todd Shapiro, vice president. Approximately 230 people are employed at the facility.
Decore opened the plant in 1995 to enhance its customer service to cabinetmakers on the East Coast. "Our core commitment has always been to custom cabinet manufacturers. They're our primary customers and we want to make sure they're taken care of," notes Brian Scott, general manager.
"Our facility has the capability to manufacture almost all of Decore's product lines under one roof," he adds. This also includes Decore's Streamline RTA cabinetry and Deco-Form refacing components.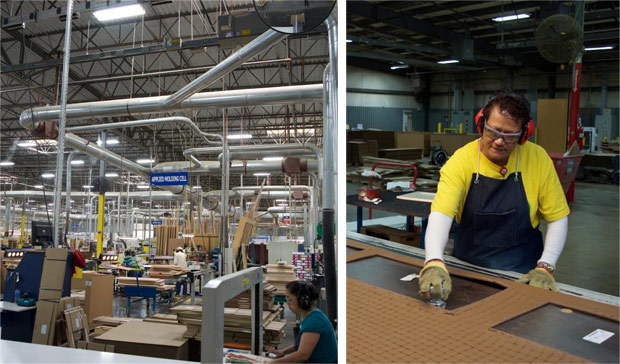 The Monroe facility, like Decore's California locations, is a lean manufacturer. With the goal of having "absolutely nothing sitting on the floor," when it comes to work in process, Shapiro says instead, "We're pushing smaller lots and consistently feeding the machines."
"It's almost like we have five different businesses here," he adds, referring to the plant's value stream operations: drawer box, pressing operation, Streamline/cabinet business, wood door line and finishing.
Along with a bevy of CNC routers, the Monroe facility features designated cells for one-piece flow production. Within the cells are small CNC and dedicated machines to aid in processing, assembly and, in some cases, even packaging, quickly and efficiently.
"[Decore's] greatest asset has always been our consistent six-day lead time," for unfinished components, says Scott. "Even when things get busy, we will make that."
Currently, solid wood and veneer components account for approximately 60 percent of the product mix. The recent investment in a Superfici flatline finishing line will help Decore speed the process while reducing the labor required.
"We're trying to make a statement of excellence. We also want to set the bar when it comes to [fulfilling] customers' expectations," Shapiro adds.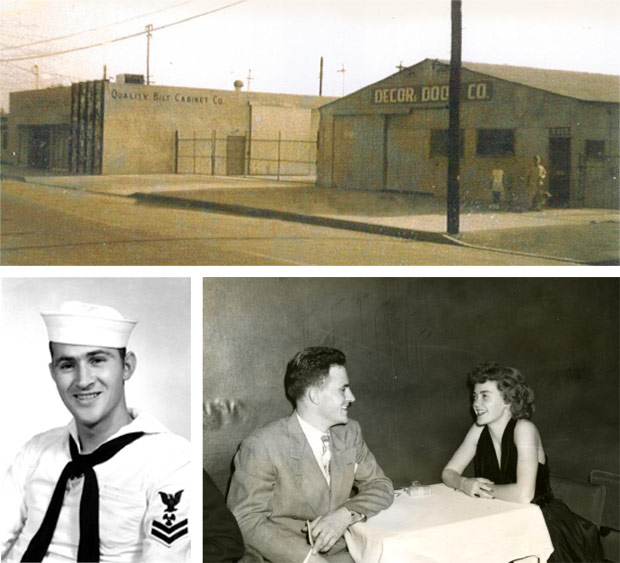 Opportunity Opens New Doors
Since its inception, customer service has been a cornerstone of the company, says Jack Sr. You could say it's what opened the door for Decore.
When Jack Sr. left the Navy in 1955, he returned to the only job he knew: cabinet making. By 1956 he and a partner bought out the company; it would continue to manufacture until 1988.
But it was in the early 1960s when requests from other cabinetmakers seeking replacement hollow core doors led the partners on a new path.
At the time, Jack Sr. says, there was only one supplier of hollow core doors in the area. Other available options, such as solid raised panel doors, had a six-week lead time.
Seizing the opportunity, the two began producing doors for sale to small cabinetmakers, and by 1965 the Decor Door Co. (known later as Decore-ative Specialties) was officially in business, manufacturing hollow core and back panel doors; Jack Sr. would later buy out his partner.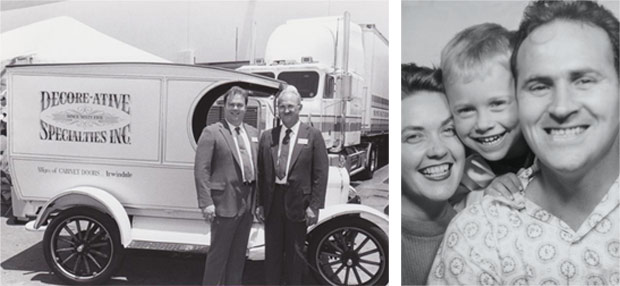 When their sole competitor in the area closed in 1968, "we got all the customers," he says. Soon thereafter, the company also began fielding requests for raised panel doors.
Tight on money and with the equipment unavailable, Jack Sr. says he did the next best thing. Using his machinist skills from his days in the Navy, he says, "We made our own equipment."
And by the early 1970s, Decore was also manufacturing custom solid raised panel doors out of its plant in El Monte, CA —with just a two-week lead time. "Back then," he says, "customers were happy to get them so quickly."
The company's goal from the start, Jack Sr. adds, has always been "to give customers what they want, at a decent price, and to make sure the quality is up to standard. It's still our goal today."
That goal has been carried forward by his sons, who have been working at Decore from an early age.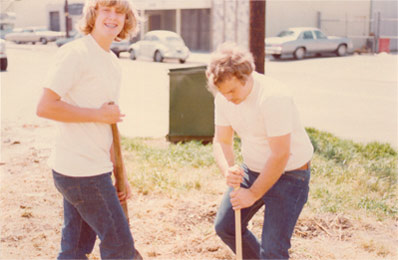 "My first job here was to separate slotted screws in the screw feeding machine. Then I would clean up the bays," Jack Jr. recalls.
"We would go in on Saturdays and help out when we were kids," Eric adds. As a teenager, one of his primary jobs was to run the shaper, spending his days producing doors for some high-volume customers. Jack Jr. also took over running the machines, and by 1979 was working at the company full time.
The late 70s also heralded the onset of computerized machinery in the woodworking arena, and Decore was at the forefront.
"I've been interested in computers since I was a kid, and my Dad was always into automation," Eric says. "When I was in my twenties, Dad had an idea for cutting the stiles and rails. That led me into the world of programmable control logic."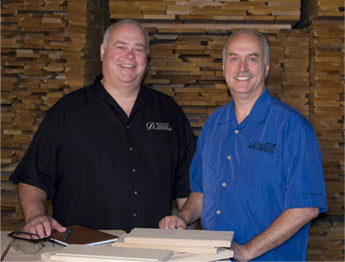 This continues to be Eric's niche, while holding roles as a custom machine developer and IT network specialist.
"We have a five-year plan to become integrated and more flexible," he says. The installation of a company-wide ERP system is currently underway and will help the company meet that goal.
Information sharing extends to methods for improving productivity and profitability at the plants. Lean manufacturing has been in place at Decore since 2007, and the facilities often share the results from their Kaizen events.
"This is really valuable," Jack Jr. says. An example of one such event, he says, focused on improving the inspection process. "The inspection lamps we always used were car headlights, running on AC transformers. One of the maintenance guys came up with the idea to run them on DC," a move which improved the longevity of the lamps and saved the company money. "That's the type of mindset I want people to have," he adds.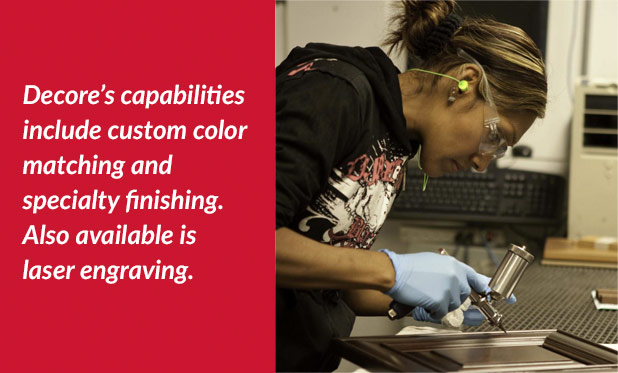 Employee Resources
Empowering employees is part of the corporate culture at Decore. "Over the years, our greatest accomplishment has been tapping into our employees," Scott says.
Jack Albright has seen firsthand the company's willingness to tap into its employees' skills. At Decore since 1978, he has worked his way up from truck driver to vice president, in charge of the Elk Grove facility.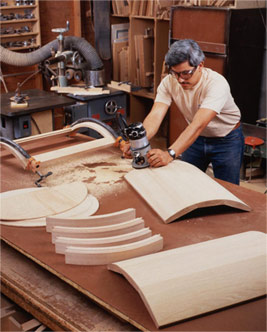 At the 90,000-square-foot Northern California plant, an estimated 140 employees manufacture wood doors, Deco-Form, and drawer boxes, as well as wood mouldings and Streamline RTA cabinet components.
"When I started with the company, the catalog was just two pages — eight to ten door styles and maybe four materials that were popular," he says. Today, capacity at the plant is approximately 4,000 wood door and drawer fronts, 800 RTF doors, and 500 drawer boxes a day.
Albright says the company's use of technology also helps set it apart from competitors. Decore has always been among the first to embrace new ideas, such as CNC routing in the early 80s, and nested-based machining in the 1990s. Members of the company also regularly attend trade shows for a look at the new equipment on the market.
Overseen by Shapiro, the 40,000-square-foot finishing facility in Irwindale combines high technology with handcraftsmanship.
This also holds true for the 125,000-square-foot Irwindale production plant, says David Thomson, vice president in charge of the plant. One of Decore's original locations, it houses wood manufacturing including: a Specialty Shop, Deco-Form, Expressions, veneer, laminate, melamine and drawer box product lines. And even at half its capacity, the plant's 260 employees produce about 20,000 doors per week, Thomson adds.
Like Decore's Monroe and Elk Grove facilities, the Irwindale plant is set for one-piece flow production. "The great thing about cellular manufacturing is you can catch any error before it gets too far down the line, and with continuous improvement programs in place, it just gets better and better," he says.
Aiding quality control, "We electronically measure all our doors for size and squareness," he adds. Bar coding helps track orders throughout the plant.
"We produce components for cabinet companies across the board. We'll service very large shops, down to one-man cabinet shops, and treat each customer the same, regardless of their size," Thomson says.
What also sets the company apart is its "one-stop" service. Decore offers every component a cabinetmaker needs, unfinished or finished, in six to 14 working days, adds Joel Boyles, director of marketing & customer services.
Sales & Product Trends
While the importance of face-to-face contact cannot be overstated, the popularity of the web has made it even easier for cabinetmakers to order components, says Jeremy Callery, director of sales. One of the first to tap into this was Decore, with the introduction of an online ordering platform in 1999.
Continuing to improve on the process, in 2014 the company launched Anytime Online Account Management, which enables customers to build, submit, review and order component parts, in a range of materials, sizes, and styles.
Whereas before it would take two years or longer for a design introduced in Europe to gain notice in the United States, now the trend is hitting in 18 to 20 months. "The trick is to figure out what's going to be popular," Callery says of determining design trends in the U.S. For a long time it was the look of real wood grains. Now, he says, people want linear synthetics. "They don't necessarily want it to look as natural as a tree."
"We don't want to say no to anyone, so we will adapt to any decision," he adds. "It's fun when somebody challenges us to do something we haven't done before and we have to figure it out — it can be really cool."
"The secret to our success," says Jack Jr., "is to give customers what they want, keep your promises, and maintain the quality of the product."
Noting the company's new tagline, "A Remarkable Difference," Boyles adds, "Starting out as a door company we've completed the circle in 50 years to become the 'gold standard' in the custom cabinets industry."
It's a commitment, Jack Sr. says, that the company does not take lightly.