Brushed Aluminum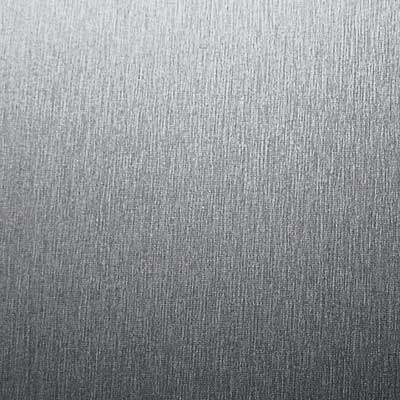 General Info and Benefits
Short of being cool to the touch this 3D Laminate screams high-end stainless steel. Vivid depth of metallic streaking and an ultra smooth embossing come to represent the shine and look desired of a stainless steel alternative. Represents well on any sized scale and can be used as an accent or dominant design. Popular applications include desks, furniture, office & kitchen cabinetry, architectural wall panels, fixtures, and displays.
Our Deco-Form® Rigid Thermal Foils (RTF) doors are seamlessly constructed with a durable, warp resistant composite core of Medium Density Fiberboard (MDF). They won't twist, crack, or peel and no finishing is needed, which saves time and money. Deco-Form® doors are also dent resistant and easy to clean with a simple soap and water solution.
Made of approximately 90% wood fibers and 10% resin to hold it all together, MDF maximizes the use of our forest resources by utilizing the residual wood element of forests not used in producing lumber, that could have otherwise ended up in landfills.
Location Availability Notes: I = Irwindale, California, M = Monroe, North Carolina. Subject to change without notice. Please verify before placing your order.
Matching Melamines
Uniboard 961 (Unverified Match)
Tafisa Brushed Aluminum 474 (Unverified Match)
American Laminates Brushed Metal F7 (Unverified Match)
Panolam Negotiating In Geneva A60 (Unverified Match)
Roseburg Silver Frost 514 (Unverified Match)
Matching Laminates
Nevamar MXT003T (Unverified Match)
Wilsonart Satin Stainless-4830K-18 (Unverified Match)
Pionite Negotiating In Geneva Pfa60 (Unverified Match)
Matching Edgeband
Teknaform Edgeband PM2020 (Unverified Match)
Rehau Cp60061 (Unverified Match)
ESI 6098R - Satin Stainless (Unverified Match)
Canplast Edgeband 86151 (Unverified Match)
Coordinated Melamine Back Available
Fog Grey coordinating back available - I (Acceptable Match)
Deco-Form® Material Availability
Brushed Aluminum Foil - I,M (Perfect Match)