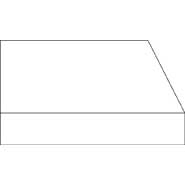 3D profile for Tacoma 3/4" door.
Tacoma 3/4" Drawer Front (893D)
Minimum Width: 5.5"
Maximum Width: 33"
Minimum Height: 3.5"
Maximum Height: 10"
Thickness Of Door: 0.75"
Center Rail at: 196.8504"
C1: Maximum can be exceeded with No Guarantee and possible option charge.
I2: Requires additional delivery time.
C3: Must be ordered door size. Singles only.
D3: Glass doors are not available.
E3: No Guarantee against cracking or warping.
The Tacoma (893) is not guaranteed against cracking or warping at any size. The Valencia (81) has battens on the back and is guaranteed within the minimum and maximum sizes.
Related Products