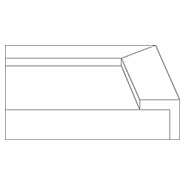 3D profile for Quincy (84) door and drawer front
Quincy 3/4" Drawer Front (84D)
Minimum Width: 3.5"
Maximum Width: 33"
Minimum Height: 3.5"
Maximum Height: 10"
Thickness Of Door: 0.875"
Center Rail at: 0"
I2: Requires additional delivery time.
Y7: Glue line is noticeable.
C1: Maximum can be exceeded with No Guarantee and possible option charge.
A8: Most Veneer Doors are on MDF except when only readily available on plywood. MDF or Particle Board Core varies by manufacturing plant and material.
C3: Must be ordered door size. Singles only.
L7: Order NOLP (No-Lip) Only.
Irwindale, CA Manufacturing The Quincy Solid Drawer Front has molding applied to the outside similar to the Quincy Door.
Related Products