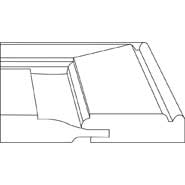 3D profile for Hudson 3/4" door.
Hudson 3/4" Drawer Front (548D)
Minimum Width: 5.5"
Maximum Width: 33"
Minimum Height: 3.5"
Maximum Height: 10"
Thickness Of Door: 0.75"
Center Rail at: 196.8504"
A1: If one minimum is used, add 2" to the other.
C1: Maximum can be exceeded with No Guarantee and possible option charge.
I2: Requires additional delivery time.
M2: 5-Piece drawer front requires modified frame detail.
P2: 5-Piece drawer fronts have 1-3/4" stiles and rails.
T4: No modification to outside edge detail.
U1: French Lites are available.
U3: Can be standard pair only. No Matched Pairs.
N3: Recessed.
Z6w: Center rail is available at an additional cost.
Solid Drawer Front does not come with beaded outside face edge. For beaded outside face edge order the Routed Drawer Front.
Related Products