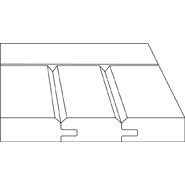 3D profile for European 3/4" door.
Minimum Width: 9"
Maximum Width: 30"
Minimum Height: 4"
Maximum Height: 72"
Thickness Of Door: 0.75"
Center Rail at: 0"
C1: Maximum can be exceeded with No Guarantee and possible option charge.
Q1: Glass Doors have 2-1/4" stiles and rails.
I2: Requires additional delivery time.
U2: Stiles are 2-1/4" and rails are 2" (except bottom rail which varies).
V2: Widths below 9" are solid vertical pieces with routed v-grooves.
Y2: Drawer fronts are same price as doors.
Z2: For most consistent look, order in 2" increments in height.
C3: Must be ordered door size. Singles only.
G4: Bottom rail is adjusted according to the door height, never less than 2" or more than 3-15/16".
Related Products