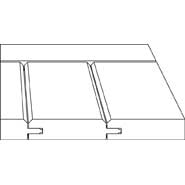 3D profile for Apache 3/4" door.
Minimum Width: 8.25"
Maximum Width: 24"
Minimum Height: 12"
Maximum Height: 48"
Thickness Of Door: 0.75"
Center Rail at: 196.8504"
I2: Requires additional delivery time.
I4: 5-Piece drawer front is recessed with 2-1/8" stiles and rails.
K4: Routed drawer fronts will have standard horizontal v-groove 1" from top and bottom.
L4: For special placement of v-grooves add $2.00 option charge per drawer front.
M4: If changes are made to the size specifications on stiles or rails, pricing will change to European (78) door price.
Z4: Between Cut Down Min. and Min. Size W" x H", additional small stile/rail charge applies. Same cost as 5-Piece drawer front charge.
Related Products