Green Program

As a family-owned company, we recognize the importance of leaving the next generation with something they can be proud of. We want to do our part in taking care of the planet our parents left us and that we will leave for our children. Since 1965, Decore-ative Specialties has remained conscientious of our natural resources and is dedicated to providing our customers with the highest quality products.
The constantly evolving "green" building industry can be difficult to navigate at times so we have listed below some of the different ways you can incorporate environmentally focused choices into your next project.


Responsible Forest Management:

Decore-ative Specialties is committed to protecting forests locally and abroad. By purchasing lumber & plywood from suppliers who practice responsible forest management to protect the resources our industry depends on. Decore-ative responsible forestry management also includes purchasing high quality lumber and continually improving our manufacturing processes and yields in order to maximize our forest resources.

Natural Characteristics:


Maple
on Dovetail Drawer Box (613)
Forest friendly consumers can choose our Natural or Standard material grades, embracing the beautiful and natural variations in color and grain commonly found in each species. Embracing natural characteristics allows a tremendous increase in the amount of material that can be used, therefore maximizing our forest resources.

Paint Grade:


MDF Panel / Paintable Hardwood Frame
in Heritage (805) in White Chocolate, Semi-gloss sheen
Paint Grade materials provide the stability of wood but maximize the lumber usage by not sorting for color or grain. Paint Grade options are also available with a Medium Density Fiberboard (MDF) panel, a great material for painting due to its smooth surface and resistance to warping.

Decreased Formaldehyde in Composite Wood Products:


Maple
on Dovetail Drawer Box (613)
In conjunction with the California Air Resources Board (CARB), Decore-ative Specialties is offering composite wood products containing glue with lower levels of formaldehyde. Commonly present in our atmosphere, formaldehyde is a natural Volatile Organic Compound (VOC) and concerted efforts to reduce the emission levels of formaldehyde helps provide a safer environment for us all.

Beech (European Steamed Beech):




European Steamed Beech in Shaker (831)
Special Rail and Special French Lite Placement.


European Steamed Beech
on Hayes (348)
An environmentally sustainable solid wood material, Beech is harvested under some of the most aggressive forestry guidelines and is a great option based on its strength, beautiful and even color and grain, and abundant availability.

Medium Density Fiberboard (MDF):

Made of approximately 90% wood fibers and 10% resin to hold it all together, MDF maximizes the use of our forest resources by utilizing the residual wood element of forests not used in producing lumber, that could have otherwise ended up in landfills. Our MDF products are offered bare for painting and wrapped with Rigid Thermo Foil (RTF) as part of our Deco-form product offering.

MDF Door (for painting)
on CC620 (620)

Veneer:


Cherry Select on
Emerson (109)
Veneer is cut from a log into sheets in varying thickness down to as thin as 1/40" thick. Allowing you to get the look you want accompanied with an environmentally friendly, recycled wood fiber composite core to offer a truly resource conscious option. Thanks to the sturdy core, Veneer doors are less suseptible to warping than solid wood doors and can provide a consistent color and grain pattern.
Reconstituted Veneer: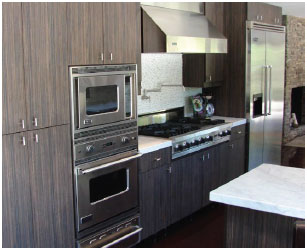 Qtr. Macassar Ebony Reconstituted Veneer in Aries (93)

Butternut Reconstituted Veneer
on Aries (93)
Starting with timber from environmentally managed forests, high-quality common woods are reconstructed to offer a top quality product with a diverse variety of color, grain, and texture options. The special layering and slicing technique used for reconstituted veneer allows for everything from looks that mimic standard wood grains and colors to wild patterns with colors including teal and lime green. We recommend our Water-Based Finish to protect and enhance reconstituted wood veneers.