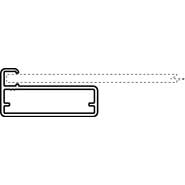 3D profile for Nolita door.
Minimum Width: 6"
Maximum Width: 24"
Minimum Height: 6"
Maximum Height: 72"
Thickness Of Door: 0.75"
Center Rail at: 0"
A1: If one minimum is used, add 2" to the other.
A25: Can exceed Maximum size with No Guarantee.
A26: Warranted for 30 days from day of shipping.