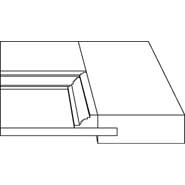 3D profile for Matisse 3/4" door.
Matisse 3/4" Glass Door (373G)
Minimum Width: 7.88"
Maximum Width: 30"
Minimum Height: 7.88"
Maximum Height: 72"
Thickness Of Door: 0.75"
Center Rail at: 196.8504"
E20: True Raised Panel face sits above the face of the frame.
E21: Doors and 5-Piece drawer fronts have matching melamine backs.
E22: Stiles are 2-3/8" on all 5-Piece drawer fronts.
E23: Rails are 1-9/16" on all 5-Piece drawer fronts.
E24: Minimum 5-Piece drawer front size varies between styles.
E25: Minimum solid drawer front size is 5-1/2" x 3-1/2".
E26: Solid drawer front comes with white melamine back.
E27: Solid drawer front available with matching back.
E28: Doors must be ordered door size, singles only.
E29: Doors must be ordered No Lip only.
E30: Outside back and face edge detail is 1/16" Bullnose. No additional options available.
E31: Maximums can be exceeded with no guarantee. Option charge may apply.
E32: Glaze is applied to the insert molding only.
E33: Glazed Crown and Base moldings are not available.