Offering
Decore-ative Specialties Material Offering by LEED category:
(Based on LEED 2009 for New Construction and Major Renovations)
Materials & Resources
MR 4 – Recycled Content (10% or 20% of entire building material cost comes from recycled materials).
MR 6 – Rapidly Renewable Materials (2.5% of entire building material and product costs must be made from materials with harvest cycle of 10 years or less).
MR 7 – Certified Wood (50% or more of wood-based materials in entire building are FSC® certified).
Decore-ative Specialties Material Offering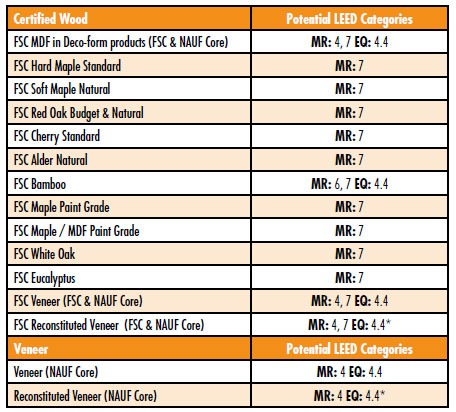 * Many reconstituted veneers do not utilize NAUF glue at this time. The core can be NAUF but the actual veneer sheet applied to the core usually contains formaldehyde.
NOTE: We continue to expand our product offerings that comply with LEED so if you do not see the product or material you need please contact your local Sales Representative or our Customer Service Department to discuss your project needs.